Pharmaceutical Management Company: Conferencing Platform
Pharmacy benefit management organization implements Cisco Webex conferencing platform and leverages WWT Collaboration Labs to support workforce productivity and create end user focus.
Empowering today's workforce
One of the biggest challenges companies face is the ability to establish connections between employees and with customers. Empowering the workforce to communicate across the globe, as well as meet with customers quickly and seamlessly, has become imperative for any successful business.
As the healthcare industry continues to revolutionize the staff and patient experience, organizations in the space are working to keep up with the demand from their modern workforce and customers. A nationwide Pharmacy Benefit Management Company was planning to retire their old web conferencing tools and was seeking a partner to recommend and implement a new platform across the organization.
The main objective for this project was to enhance the overall meeting experience for employees across the country in the most cost-effective way possible, improving workforce sentiment and creating positive experiences for all end users.
To accomplish this, the organization needed consistency. They were using several different collaboration platforms, creating confusion and frustration when trying to connect. Since they were working to migrate out of a data center that served as the hosting point for one of their current collaboration tools, Adobe Connect, it was an ideal time to integrate a new, unified conferencing system.
Cisco Webex conferencing solution
With approximately 30,000 knowledge workers, 180 telepresence endpoints and over 18 million minutes spent each month on public switched telephone network (PSTN) audio, the company needed to adopt a single platform that would provide all previous functionalities in one streamlined system.
We proposed replacing their legacy Cisco TelePresence, Adobe Connect and Avaya Audio Bridge tools with an upgraded Cisco Webex platform, offering simplified communication and additional integration opportunities.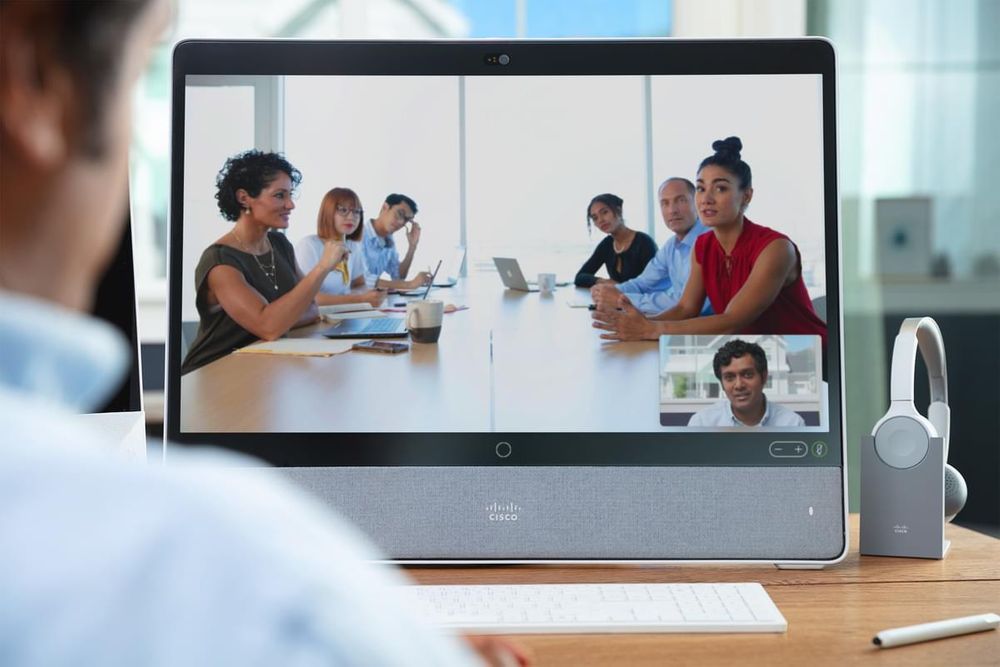 Aside from an extensive understanding of conferencing services, our collaboration architects have decades of experience working with telepresence endpoints and next-generation collaboration infrastructure. Within 12 months,they were able to design and deploy our largest Webex solution to date, which included expanded video infrastructure with Cisco MX Video, Polycom replacement, Webex Teams and Webex Cloud Connected Audio.
WWT Collaboration Labs
Engineers within the Advanced Technology Center (ATC) leveraged the on-demand and customizable Collaboration Labs to validate the solution prior to deployment, as well as ensure full integration and adoption post-implementation.
Workshop demonstrations
Using the demo environment within the ATC, collaboration engineers assisted with a Jabber and Skype for Business Comparison Workshop in an effort to better understand online meeting features and capabilities across multiple OEMs.
As their evaluation continued, the customer engaged in a Next Gen Meetings Workshop and an interoperability demonstration between a Microsoft Lync client and Cisco Webex. These two engagements showcased the Webex's ability to provide a collaborative environment in any location, as well as multivendor functionality.
In addition, ATC engineers presented video strategies to assist the customer in evolving their disparate voice and video tools. These services included an overview of VCS, CallManager and TelePresence video endpoint integration.
Sandbox environments
The customer has also taken advantage of several sandbox environments to experience future integration opportunities firsthand.
A Cisco Jabber and Webex sandbox provided approximately 15 members of the customer's team with an evaluation lab environment to conduct proofs of concept (POCs). The team was able to use remote access to engage and test instant messaging and voice/video calling within Webex.
A Skype-to-Jabber migration sandbox was then developed to fully showcase this migration process. We were able to replicate the organization's current Lync 2013 environment and a scaled-down version of our recommended Jabber environment. We then established federation between the two solutions, and WWT engineers wrote script that walked the participants through the entire migration process.
The continued goal is to use WWT's Collaboration Labs to explore further innovations with Cisco Webex and Webex Teams, as well as validate supporting solutions that provide analytics and automation capabilities.
Next-generation collaboration
WWT not only spearheaded the design and implementation of the solution but was also involved in building a training campaign around the platform. Our Adoption Services Group engaged with the customer's internal training team to assist in developing collateral that would help employees familiarize themselves with the new meeting processes.
Webex is a multimodality conferencing platform, meaning users can join using telepresence, a web browser, standard phone or mobile device – all functions that were not available with the company's former conferencing system.
Cisco Webex provides the organization with a single workflow for scheduling meetings, better in-room and mobile experiences, expanded integration opportunities, reduced audio costs and an overall increase in collaboration tools. This allows the organization to cut travel, system maintenance and overall employee costs.
Adopting a unified communication platform allowed the customer to retire multiple legacy collaboration tools and collapse all functionalities into Cisco Webex, creating consistency while supporting an authentic meeting experience.