Public Sector Tech Talk E12: Hybrid Cloud: Challenges and Considerations for a Successful Transition
Event Overview
The COVID-19 pandemic accelerated the federal government's digital transformation initiatives, including the migration to multicloud and hybrid cloud environments. This resulted in near-term benefits for agencies that simply needed to extend and support their mobile workforce, but the long-term impact and strategy needs to be addressed. This Public Sector Tech Talk will look at the challenges agencies are facing now as well as considerations for delivering a more efficient, agile and secure hybrid cloud environment. Subject matter experts from World Wide Technology and Dell Technologies will discuss what agencies need to do now to enhance their hybrid cloud infrastructure as well as the full lifecycle of the data that resides on the network. This includes technologies and approaches to deploy a hybrid cloud strategy that delivers agility, business continuity, security and ROI.
Goals and Objectives
After viewing this episode, you will have a better understanding of the key benefits that a hybrid cloud approach can provide federal agencies as well as key considerations for ensuring a transition to this environment is a success.
Who should attend?
Public sector IT professionals looking to learn about emerging technologies and drivers shaping the future of government. This series is geared towards those that are developing and executing solutions that address the unique challenges faced by government agencies. In this case, a focus on hybrid cloud.
Presenters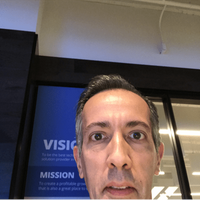 Mark D'Alessandro
Dell Technologies
Director
World Wide Technology
Technical Solutions Architect
Invite people to join this event