Advancing communities by advancing healthcare.
Health Equity and ESG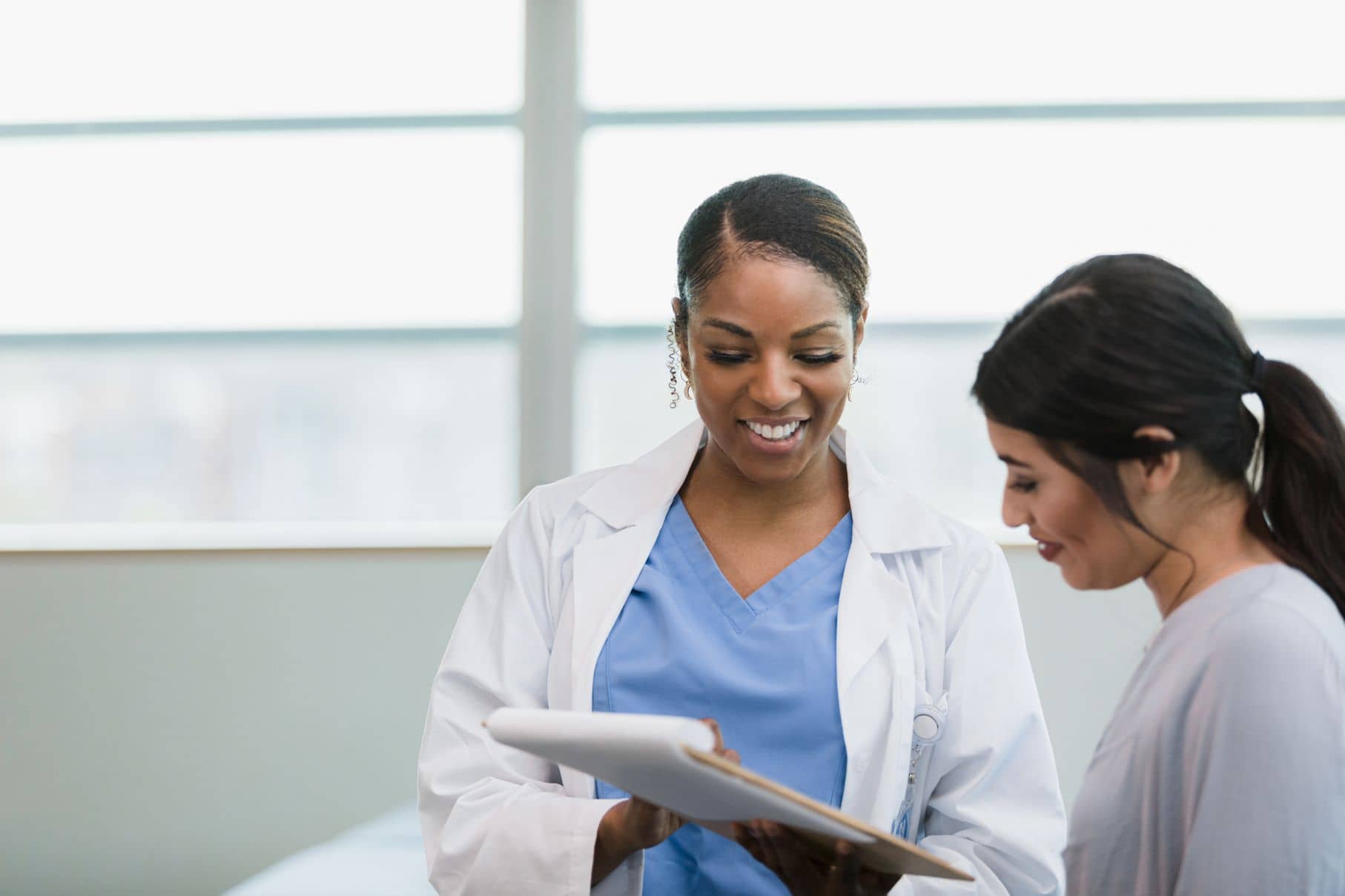 Creating business value with a sustainable and equitable impact
As stakeholders increasingly expect more focus on environmental, social and governance (ESG) initiatives, organizations across industries are being asked to demonstrate their commitment to adopting and investing in socially responsible principles and values.
For healthcare organizations, an effective ESG framework goes beyond sustainability and social impact concerns: It calls for the prioritization of equitable patient care.
WWT partners with healthcare clients to integrate ESG principles into their clinical and operational practices. We help organizations develop a practical, actionable way forward that leverages both existing and new technology investments. Our dedicated experts bring deep industry knowledge to implement strategies and tools that advance environmental and social objectives with sustainable business value.
Health equity and the environment
Healthcare is responsible for roughly 10 percent of greenhouse gases and smog produced. By the nature of their on-site operations, health systems unintentionally contribute to the adverse health of their employees and communities. But by addressing the sustainability of infrastructure, they can do better.
WWT understands the environmental impact of technology and pursues infrastructure optimization to drive measurable sustainability gains. We help our clients minimize the impact of new and old technologies on the planet and develop sustainable strategies for data center optimization, cloud computing and facilities infrastructure. We can help you identify and execute sustainability efforts that will have the greatest impact on operational efficiencies and health equity in your communities.
Health equity and social determinants of health
We help healthcare organizations deliver equitable opportunities for health and wellness by providing strategy consulting, infrastructure modernization, and data optimization to drive meaningful change. We leverage the CMS Framework for Health Equity to contextualize the ways we assist clients in their mission to improve health and wellbeing. These priorities, listed below, ground the initiatives healthcare organizations embark upon for both near and long-term value.
1. Using data to address disparities in health:
Gaining insight into disparities is necessary to meaningfully address and prevent inequity. WWT brings extensive engineering, analytics and industry expertise to the table. Our experts not only help with the aggregation and standardization of data from disparate and often siloed sources, but also with leveraging advanced technologies, such as AI/ML, to facilitate faster insights and action. We help our clients implement data-driven interventions to improve the lives of those most at risk and avoid health inequities.
2. Building capacity to reduce healthcare disparities:
Ensuring access to quality healthcare services in every community, regardless of location, requires reimagining what care can look like and who can provide it. Changing consumer expectations and a lack of workforce capacity are both issues challenging the delivery of care in the traditional brick and mortar fashion.
WWT helps healthcare organizations implement the infrastructure necessary to extend digital solutions to their patients. Our networking practice creates global connectivity architectures to meet the unique needs of our clients and the populations they serve. We take stock of existing assets and intentionally leverage them in partnership with new technologies to create novel delivery mechanisms. We have helped healthcare organizations create a myriad of virtual and digital forms of care, and create opportunities to rethink how to engage patients.
3. Closing gaps in care:
Bridging the discrepancy between recommended practice and actual care delivered is another area ripe with opportunity for the creative technology use. Such gaps can exist due to the unintended consequences of one-size-fits-all clinical and operational models, geographic scarcity of healthcare resources, and cultural differences in accessing and receiving care.
WWT has helped clients extend resources through creative virtual, mobile and remote care models to reach otherwise underserved populations. Our digital teams have helped clients create innovative engagement platforms, helping patients find the care and community resources they need as well as the information they want.
Plus, our IoT experts help clients select best-of-breed devices and wearable solutions while ensuring their underlying IT infrastructure is optimized for a scalable and interconnected model to improve health outcomes.
4. Cultural tailored services:
Cultural competency enables healthcare systems to care for patients with diverse values, beliefs and behaviors. It includes tailoring delivery to meet patients' social, cultural and linguistic needs. Providing effective medical and mental health services requires an intentional approach to patient engagement by delivering diagnostic and treatment modalities consistent with their beliefs and practices.
WWT helps deliver culturally tailored services by creating applications specifically developed for diverse and unique patient and caregiver populations. Our human-centered design methodology enables a more culturally sound experience for the communities our clients serve.
5. Accessibility:
Twenty six percent of Americans have a disability, be it cognitive, visual, auditory, mobility impacting or any combination thereof. All individuals should be able to access healthcare in a way that is responsive to their needs and preferences. Accessibility is often thought about in physical spaces. And while WWT incorporates these principles in the spaces we help design — such as the hospital of the future — we lead with these values in the digital spaces we create as well.
Our digital applications teams prioritize accessibility in software development and believe it is a value, not a feature. We strive to create products that meet Web Content Accessibility Guidelines version 2.1 at the AA level (WCAG 2.1 AA). Moreover, our experts lead with inclusive design, following a methodology that values diversity in experience and abilities to create applications that delight, engage and enable all users.
Health equity and governance
The governing bodies of healthcare organizations have a responsibility to ensure equitable delivery of care. With the unprecedented challenges affecting the healthcare ecosystem, organizations recognize that addressing health inequities is more important than ever.
Nonprofit hospitals and health systems are inherently mission-driven, and most are already engaged in some elements of ESG. However, most health systems are investing additional time and resources to create governing bodies that expand their understanding of health equity and ensure clinical and operational decision-making is made with it at the forefront.
Implementing the people and processes to address governance for health equity is the first step. But many healthcare leaders struggle with how to leverage technology to achieve and optimize their ESG ambitions.
At WWT, we combine strategy and execution to remove the barriers that can limit even the best-laid ESG plans. We help our clients craft an ESG strategy that aligns with business objectives and leverage the right tools that add visibility and predictability — including augmented intelligence solutions like AI and ML. Overall, We can help you adopt a more data-centric mindset in their governance and execution of initiatives to ensure health equity for your patients.
Learn more about sustainability and ESG today.