Foundations Lab
 · On-demand
Cisco ACI Fundamentals Lab Part 1
Solution overview
Today's networks can be complex, have limited functionality, and resist change. Cisco Application Centric Infrastructure (ACI) is a network architecture that changes how we design, manage, and operate the entire data center network. This lab showcases the new features and functionality of the ACI 6 version.
With this ACI 6 lab, experience building out the various constructs ACI offers and explore the ability to create application profiles, Layer 2/3 connectivity to ACI, and much more. This environment also allows for Virtual Machine Manager (VMM) integration, such as with VMware vCenter, allowing the provisioning of the Distributed Virtual Switch (DVS) on the Hypervisors. The ACI Simulator has no data plane, so traffic will not pass, allowing users to experience the Web GUI.
The ACI Virtual Simulator also allows automation tools such as Ansible or Postman to automate and define every aspect of an ACI fabric.
This lab guide allows the user to experience the initial configuration of the APIC controller, then provide fabric discovery and design as well as VMM integration. Explore the ability to create multiple tenants and application profiles within those environments and the new features in ACI 6, such as ESGs.
Due to data plane limitations, the lab does not include any VMs or physical hosts to test the data plane or policies that you have created.
Lab diagram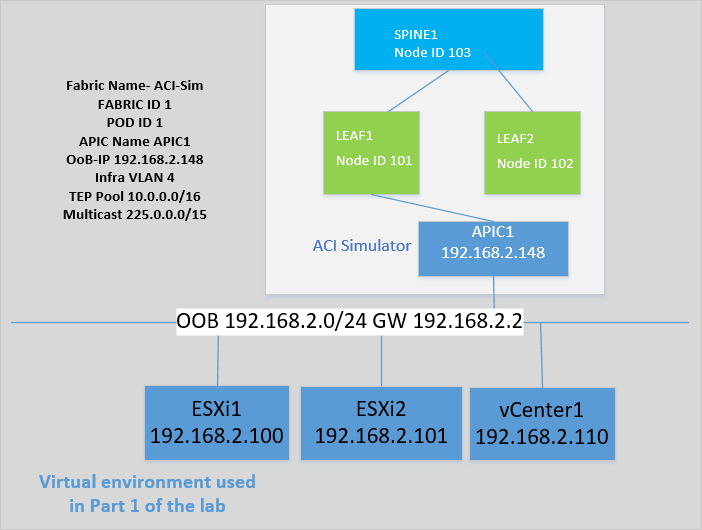 What's next?
Learn more about Data Center Networking, stay up-to-date with the industry and the new technology we have at WWT.