Intel vCMTS Dataplane Lab
Solution Overview
As MSOs face increasing bandwidth demands, limited head-end space and an effort to reduce CapEx and OPEX, virtual CMTS (vCMTS) has emerged in recent years as a path forward to accomplish these goals. These systems differ from traditional Cable Modem Termination Systems (CMTS) by using commodity x86 based servers to virtualize the DOCSIS processing components instead of having a dedicated appliance. As these new virtualized systems' performance differs based on the system's processing power, Intel has released their vCMTS Reference Dataplane to measure the DOCSIS MAC dataplane performance. Since this DOCSIS MAC dataplane takes up roughly 85 percent of the overall processing requirements of a vCMTS system, it is crucial to characterize the performance and power use of this component.
This lab utilizes two servers, one operating as the Kubernetes master and traffic-generator node (referenced as PKTGEN in this system). The other functions as a vCMTS dataplane node (referenced as vCMTS-d). Each vCMTS-d pod is responsible for the upstream and downstream processing for the corresponding service group; likewise, each PKTGEN pod simulates the DOCSIS traffic for that service group.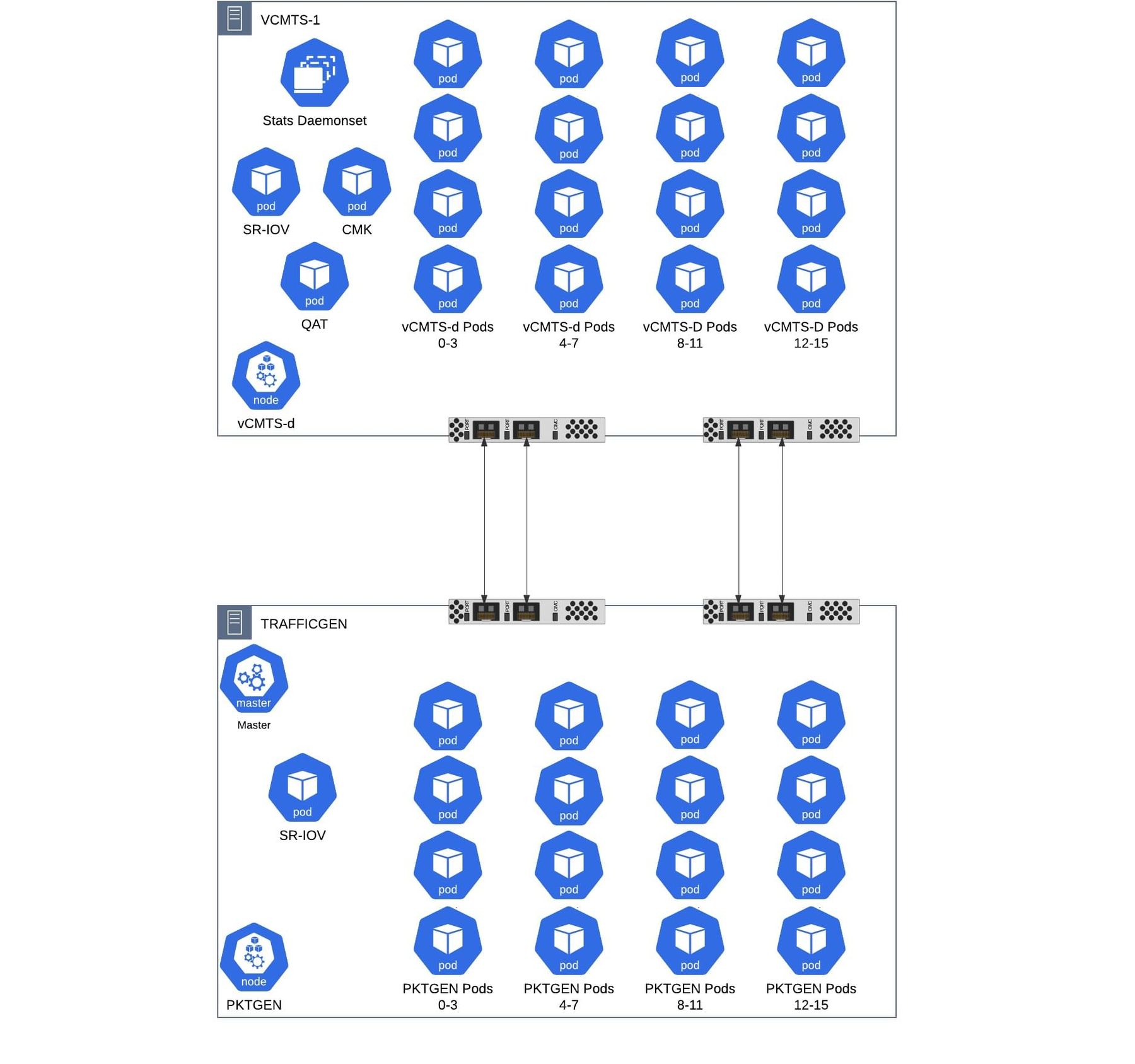 Goals & Objectives
The introductory lab will provide users with the knowledge to navigate, change settings and perform operations inside a Kubernetes based deployment of the Intel vCMTS Reference Dataplane. Afterward, the user is free to partake in the Sandbox mode and run through and modify the lab component configurations to see how the various configurations throughput, consumed power, latency and other measurables are affected.
Hardware & Software
Hardware:
PKTGEN-Server
Intel S2600WFS Server Board
2 x Intel Xeon Platinum 8170 CPU
192 GB RAM
2 x 800GB SSD
2 x Intel E810-CQDA2
VCMTSD-Server
Intel S2600WFS Server Board
2 x Intel Xeon Platinum 8170 CPU
192 GB RAM
2 x 800GB SSD
2 x Intel E810-CQDA2
Software:
Ubuntu 20.04
Intel Reference vCMTS Dataplane 20.10
DPDK 20.08
Docker 19.03
Kubernetes 1.18