About Nutanix & WWT
As a Premier authorized partner, WWT collaborates with Nutanix to delight customers with a simple, flexible and cost-efficient cloud platform, one that offers freedom of choice and enables a true hybrid and multicloud computing. With a deep bench of domain experts in virtualization, networking, storage, automations and other domains, our WWT and Nutanix experts address in-depth solution challenges with organizations' data center modernization. Whether on-premises or in the cloud, our customers get unified management and operations with one-click simplicity, intelligent automation and always-on availability.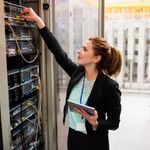 Lab
Software Defined Data Center (SDDC)
Nutanix Calm
Nutanix Calm enables organizations to automate IT service delivery to meet their business needs and fully manage the release process. Calm automation lets you run applications on multiple hypervisors and clouds without platform lock-in and adjust workloads according to business priorities. Calm also provides policy-based governance, making it easier to optimize VM utilization and sizing, which leads to significant savings in OPEX and CAPEX as well as shorter time to value.
Start your journey today
Reach out to learn more about our Nutanix capabilities, speak with an expert or take advantage of what we have in our labs.