What you can't see will hurt you.
Nearly 90% of all Internet traffic is encrypted. And F5 Labs threat research shows that 68% of malware uses encryption to hide malicious payloads. If you're not inspecting SSL/TLS traffic, you will miss attacks, and leave your organization vulnerable. SSL Orchestrator provides robust decryption/encryption of SSL/TLS traffic.
WWT's experts and Advanced Technology Center (ATC) support the latest in F5 solutions.
F5 SSL Orchestrator Guided Configuration Overview
F5/Ansible Tips and Tricks: Advanced Topics with SSL Orchestrator and Telemetry
This lesson demonstrates how Ansible, combined with telemetry can allow for performance bottlenecks to be mitigated in real-time
Learn more about Network Security and F5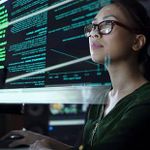 Network Security
Decrease your attack surface, improve visibility and reduce risk while simplifying management and operations.