Upcoming and on-demand events
Online or in person, WWT offers a variety of events to collaborate, connect and grow in the digital world.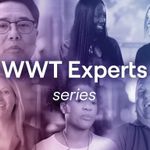 Event
webinar
WWT Experts: Warren Jackson on SD-WAN
Join us! We're excited for another quick dose of deep expertise with the WWT Expert series. In each episode, our host poses topical questions to a WWT Expert. Learn about the business solutions these experts have created, the technologies they've mastered and the trends they're seeing in the marketplace. All in 30 minutes or less. In this episode, our expert on the experts, Matt Coble, will be joined by a Networking legend, Warren Jackson. Warren will share his expertise about SD-WAN architectures, technologies and industry trends. While many organizations have implemented SD-WAN, others still need to start, and many are evolving how SD-WAN aligns with remote work, SASE and the evolutions of cloud computing. Warren will wrap his remarks by sharing what he sees coming in the future with SD-WAN technologies.
Jan 26, 2022 • 10 am (CST)
Event
webinar
Decoding SASE for Your Business
Since Gartner introduced the term Secure Access Service Edge (SASE) in 2019, organizations have been trying to figure out what this merging of network and security architectures means for their organizations. The rapid disappearance of the boundary between private networks and public networks has caused organizations to accelerate their SASE Journey. We aim to take you through a journey of how WWT envisions the SASE implementation and what its important pillars are both on the Network and Security front. We are going to showcase Cisco's comprehensive SASE offerings and solutions in action realizing this vision. Attendees will have the chance to win multiple prizes during the presentation!
Oct 19, 2021 • 12 am (CDT)