Your resource for everything SD-WAN
SD-WAN empowers users at the branch by providing high-performance access to cloud-delivered services. But with vendors constantly evolving solutions with new features and integrations, the market can be difficult to navigate. Follow this page to stay current with everything SD-WAN.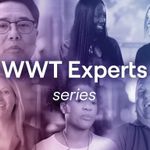 Event
webinar
WWT Experts: Warren Jackson on SD-WAN
Join us! We're excited for another quick dose of deep expertise with the WWT Expert series. In each episode, our host poses topical questions to a WWT Expert. Learn about the business solutions these experts have created, the technologies they've mastered and the trends they're seeing in the marketplace. All in 30 minutes or less. In this episode, our expert on the experts, Matt Coble, will be joined by a Networking legend, Warren Jackson. Warren will share his expertise about SD-WAN architectures, technologies and industry trends. While many organizations have implemented SD-WAN, others still need to start, and many are evolving how SD-WAN aligns with remote work, SASE and the evolutions of cloud computing. Warren will wrap his remarks by sharing what he sees coming in the future with SD-WAN technologies.
Jan 26, 2022 • 10 am (CST)