Infrastructure Engineers Are Being Disrupted
Software-defined infrastructure and automation will cause a large disruption to the infrastructure engineering workforce. What are you and your teams doing to make sure your organization is ready for this disruption?
April 14, 2020
•
6 minute read
You can find more information regarding automation and automation platforms with the following resources.
Software-defined infrastructure
Earlier, we noted that the second principle for success was ensuring flexibility by investing in malleable software-defined products that enable you to have a true hybrid cloud experience.
Application programing interfaces (APIs) are a key component to the flexibility and scalability of your platform. For maximum flexibility, they should be available for each underpinning infrastructure component. This will ensure teams are able to expose automated services utilizing your automation platform.
On top of that infrastructure (and we can't stress this enough), standards for this infrastructure need to be well defined and implemented. Ideally, the teams would be utilizing automation tools to help ensure your configurations are consistent across all components. Automating the identification, verification and remediation of inconsistent infrastructure configurations will free up enormous manual labor throughout your engineering teams.
Upon that standardized infrastructure, you are able to construct distinct infrastructure services and start to utilize tools and other solutions to provide infrastructure as a service. Your teams can then start to adopt truly differentiated offerings by layering on platform services.
If you are interested in hearing more about software-defined infrastructure, take a look at the following content.
Transforming traditional engineers
Many infrastructure teams struggle to transform themselves. A common analogy is changing the tires on a car while it's still moving down the road. Infrastructure teams are being asked to do more with less: less team members, less budget and less available time.
Investment in training for the engineers will accelerate your success and ensure they understand key concepts when automating. This journey is not just a one-and-done training course to enable a team. It is also about giving the teams time to internalize, strategize and implement these solutions.
Where should you start?
Have teams start with something small in scope. Find the easily repeatable tasks that are done frequently. Experience within WWT and our customers has shown that simple, repeatable tasks can create a snowball effect to larger automated processes in the future.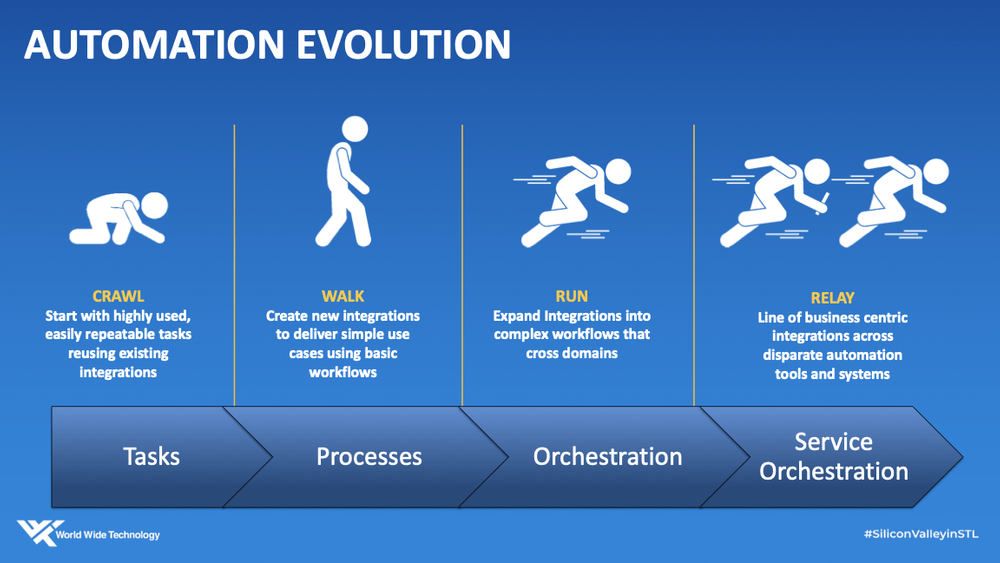 WWT's expertise, combined with our ATC platform, provides many tools at your disposal in order to enable your teams. On-demand labs from a large variety of vendors (F5, NetApp, Cisco) can help validate and facilitate the learning and idea generation, or utilize a training or workshop to have a facilitated engagement to further develop and validate the ideas into a strategy.
Changing the way you hire
As the industry and your strategies change, hiring practices must also evolve. Many organizations are hiring developers in place of infrastructure engineers. Those organizations that go down this path are cross-pollenating skillsets so that the developer learns infrastructure components and the infrastructure engineers learn how to automate.
Not sure how to start? Our Strategic Resourcing services could help align, vet and support your WWT contractors while they work as part of your organization.