Should You Make the Leap to Cisco Catalyst 8k?
Learn from a brief discussion of Cisco's new Catalyst 8k platform, where it fits in your network and how well it performs.
The very fact that you are reading this means that you, like many others, are trying to make heads or tails of Cisco's new Catalyst 8k platform. Many IT teams face the decision to stay on their current Cisco ASR1k & ISR4k platforms or jump to the new hotness. Whether it's features, scale or product longevity, one must always balance those pros against the potential stability issues that come with any new platform or the code supporting it.
This article will discuss the cons, the pros and WWT's independent testing of the new 8000 series edge platform to help you make an educated decision.
Let's start with a brief primer on the new and somewhat confusing terminology of Catalyst for this platform and where these devices fit into the existing Cisco portfolio. As you may have heard, Cisco has decided that anything that runs IOS XE code is now branded as a Catalyst. This will undoubtedly take some getting used to by long-time network nerds (such as myself), who think of switching platforms when hearing the term Catalyst. That being said, it makes sense since there are no hard lines between switches and routers these days, as network devices do both and more.
The Catalyst 8k evolution cycle
Alright, so we have made it past the Catalyst name. Now we need to get our heads wrapped around the 8500, 8300, 8200 and what they evolve and eventually replace. In short:
The 8500 is the evolution of the ASR1k platform.
The 8300 is the evolution of the ISR4400.
The 8200 is the evolution of the ISR4300.
As I am sure you have already found, there is quite a compelling list of features that make the Catalyst 8000 well worth looking at and then perhaps immediately shifting to. Perhaps the most business relevant and important are the new rounded edges and hexagonal venting! I am kidding, of course, but I did find it interesting that it was one of the first things mentioned in the product launch.
The real news around the new platform centers around sheer horsepower and scale; all offered in a smaller package than their predecessors. Purely from an SD-WAN lens, depending on the specific model.
The 8500 is capable of 8,000 tunnels.
The 8300 is rated at 6,000.
The 8200 supports 2500/1500.
The throughput numbers have also significantly increased and most notably, the encrypted throughput. For the 8500 specifically, thanks to the latest Quantum Flow Processor 3.0 (QFP), which touts inline hardware-accelerated encryption/decryption, the IPSec and MACsec numbers have been elevated to previously unimaginable numbers on a single router (~68Gbps for the C8500-12X4QC!)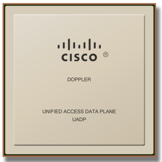 Harkening back to the Catalyst naming discussion earlier, these new devices take multipurpose functionality to another level. Another super exciting advancement is the addition of actual UADP powered switching modules. Gone are the days of super stripped down feature sets for these add-on modules. UADP on these blades means that capabilities previously only available on full blown Catalyst switches are now available on this platform. Couple that with the UCS-E blades, a true all in one edge platform is not only possible but arguably just as good as building out an a la carte solution. Use cases such as Cloud Edge or small-medium branch deployments are easily realizable with these devices. The platforms also utilize a 12 core Intel CPU, which can be intelligently sliced and diced for individual use cases. This allows you to assign CPU cores where you need them and make the most sense for your deployment.
Let's talk about adoption
So now for the 800-lb gorilla in the room, primetime readiness. As we all have experienced, there is a maturation curve with any new platform, which can be very painful for early adopters.
The good news here is that our independent lab tests* have proven to be highly successful. We have completed standard IOS feature testing with the 8300's as well as SD-WAN specific testing with a mix of 8500/8300/8200. Both sets of tests yielded very positive results. Cisco also states that they will have 99+% feature parity on day one, which I believe is primarily due to IOS XE and its maturity. Speaking of IOS XE, another important shift for Cisco, which I think we will all benefit from, is the single image strategy for all Catalyst platforms.
In theory, this means that anything called a Catalyst will have the same image, which should dramatically reduce the amount of necessary regression testing and in turn increase code stability. Whether you deploy these boxes as Cloud Edge or SD-WAN, it will be the same code, although you will define in software your intended purpose.
While this is by no means an exhaustive article on Cisco's new platform, I hope it at least answers some of the most nagging questions that customers may have while making platform selection decisions.
In closing, we need to answer the burning question of should you make the leap or not. Based on pure performance numbers, features and Cisco's aggressive pricing on the new platform, the answer is a resounding 'YES!'
*If you would like further information on WWT's test efforts and results, please contact your WWT Account Team.