Reinsurance Firm Compares Flash Storage Vendors to Optimize Data Analytics
Proof of concept tests flash storage performance and resiliency against organization's data-intensive workloads
Challenge
A global reinsurance firm runs monthly analytics on a sizable amount of data related to claims and other business metrics. This process involves the massive ingestion of data at the end of every month followed by an equally large write-out of data following analysis and reporting.
Recognizing that their situation was an ideal use case for flash storage, the firm decided it was time to evaluate leading vendors. To do so effectively, it was critical they had a way to compare like-for-like performance against their specific workloads.
Solution
As a trusted expert on flash storage, WWT was asked to facilitate the comparison of four competing solutions: NetApp AFF8060, EMC XtremIO, Pure M50 and Violin 7300. We worked with each OEM to acquire and configure the necessary hardware in our Advanced Technology Center (ATC) prior the test.
Our Flash Lab within the ATC already featured two-brick ExtremIO and the AFF8060. We then coordinated with Pure and Violin to deliver and configure their solution. The Flash Lab included a pair of MDF switches, a UCS domain consisting of two VCT 48 fabric interconnects and three B-series UCS blades, each running as a single VM for testing. Btest was used for workload simulation.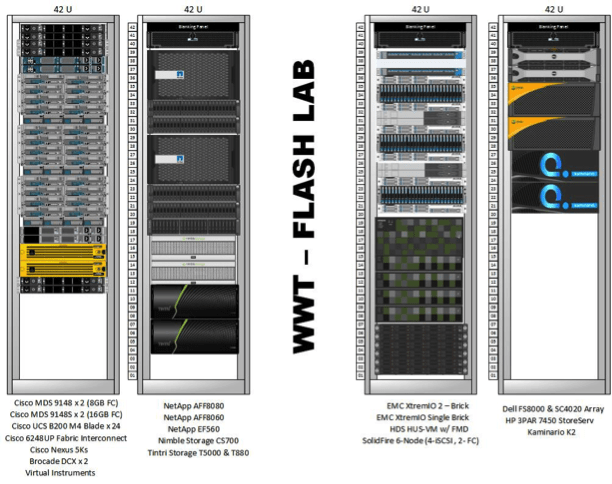 Flash lab diagram
This proof of concept (POC) consisted of three test conditions:
A generic VDI workload.
A generic virtualized server workload.
Specific workload that ingested a massive dataset from an ERP database, and then wrote the data back out.
Additionally, the POC tested a mixed load for resiliency comparisons. During the week-long test, our engineers modified the environment by pulling drives and powering components on and off to test I/O resiliency against the established baseline performance benchmark.
Conclusion
While the POC was led by our technical staff, the customer and OEM representatives were on-site during the engagement. The POC was conducted in two phases over one week. The first phase tested NetApp and Dell EMC ExtremIO; a second phase tested the same parameters against Pure and Violin.
The customer received an objective assessment of the performance they could expect in their environment, and the organization received a full report of test results for reference as they consider how a flash deployment might enhance their ability to analyze massive data sets.

Performance data diagram
Business Outcomes
The Flash Lab proof of concept from WWT resulted in:
Confidence: By comparing four solutions in a controlled testing environment, the customer was able to select the optimal solution with confidence.
Quality assurance: The POC provided the customer with assurance of that the solution selected would meet VDI, virtualized server and ERP database workloads.
Risk reduction: A rigorous testing plan ensured the customer wouldn't deploy an underperforming solution.