TEC37 E24: Risks and Benefits of Hybrid Work
Event Overview
Thanks to the COVID-19 pandemic, today's reality is the hybrid workplace, where businesses must manage employees working from a variety of locations, from their homes to the office. A lot goes into making this reality successful, and organizations must use technology that might be unfamiliar to them to address issues with collaboration, productivity, communication, and security. The companies that have unlocked the secrets are thriving in today's new paradigm—and you can too. Join host Robb Boyd as he speaks with WWT's Charlie Lawhorn - Chief Digital Advisor, David Rosenblatt - Principal Solution Architect and Rick Dudeck - Senior Practice Manager at Security Consulting Services. They'll discuss what's happening in hybrid workplaces and how you can make yours a success.
Goals and Objectives
After attending, you'll have better insight into how to make your hybrid workplace a success. You'll come away with a high-level understanding of what's happening in other workplaces today and pick up some ideas of how to create a smart hybrid workplace strategy for your own business.
Who should attend?
This episode is targeted toward business and technology decision makers in medium to large enterprises, including Chief Information Officer, Chief Technology Officer, Chief Information Security Officer, Chief Executive Officer, VP/Director of Cloud, Director of IT, and VP/Director of Applications.
Presenters
World Wide Technology
Distinguished Solutions Architect- Digital Workspace
World Wide Technology
Chief Digital Advisor
World Wide Technology
Practice Director | Data Protection and Security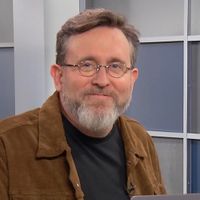 Robb Boyd
Explainerds.net
Chief Nerd
Invite people to join this event