WWT and Fortinet help clients secure industrial control systems
The Fortinet Security Fabric provides a security architecture that covers all aspects of the industrial environments in industries such as manufacturing, power, utilities, transportation and smart infrastructure — from the back office to the production floor, from air-gapped systems to connected ones, from internal users to third-party partners.
Consistent security policy deployment and enforcement. The Fortinet Security Fabric provides protection across digital infrastructure, enabling multiple network security use cases, including enterprise-level NGFW, internal segmentation and Secure SD-WAN.
Expanded visibility, control and centralized management across the entire distributed network. The Fabric Management Center provides a single pane of glass, simplifying operations and enabling automation of workflows. Gain visibility and control of all traffic and threats at every point across the attack surface.
Uncompromised performance, protection, and scalability. The Fortinet Security Fabric's AI-driven, defense-in-depth breach prevention provides automated operations, orchestration and response to detected threats.
The Fortinet Security Fabric provides a proactive and transformative approach to OT security to close OT security gaps, deliver full visibility and provide simplified management.
WWT's experts and Advanced Technology Center (ATC) support the latest in Fortinet solutions:
Fortinet Operational Technology Business Outcomes

Full Visibility
Gain full visibility anywhere on the IT-OT network, determine the degree of trust, and continuously monitor behavior to maintain a level of trust.

Control Identity and Access Management
Enabling multifactor authentication ensures the appropriate people have the appropriate assigned permissions and access.

Situational Awareness - Analyze Traffic for Threats and Vulnerabilities
A complete analysis of behaviors in OT networks keeps security teams informed of known and unknown threats.
Learn more about OT Security and Fortinet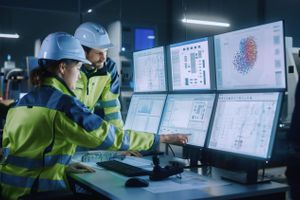 OT Security
As industrial control systems (ICS) converge with enterprise networks and traditional IT environments, operational technology (OT) security helps ensure the safety and integrity of industrial operations.

Fortinet
For more than 20 years, Fortinet network security solutions have been the most deployed, patented and among the most validated in the industry. Its portfolio of cybersecurity solutions are built from the ground up with integration and automation in mind, enabling more efficient, self-healing operations and a rapid response to known and unknown threats.