Multicloud Integration Workshop
The WWT Multicloud Integration Workshop is designed to help validate use cases and workflows associated with a developer CI/CD experience that includes emerging concepts like Infrastructure-as-Code, Policy-as-Code and dynamic secrets management in a multicloud environment. This workshop is intended to be a collaborative hands-on session with the client stakeholders and technical staff.
This workshop ranges from a half-day to multi-day and can be facilitated virtually or onsite. These sessions are designed to build a shared understanding of key concepts like:
CI/CD
Version Control
Infrastructure-as-Code
Policy-as-Code
Image Management
Config Management
Secure credential storage
Technology in this environment includes:
Jenkins
Terraform Enterprise
Terraform Cloud
Ansible Tower
Vault Enterprise
Gitlab
Packer
AWS
vCenter
NSX-T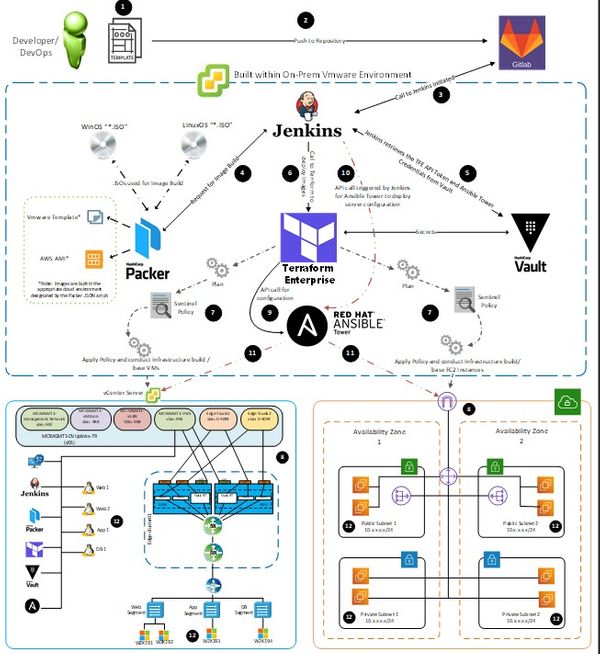 What to Expect
The WWT team will work with you to tailor the workshop agenda to your specific goals, covering the following topics:
Discuss desired business outcomes relating to integrated multicloud environments.

Detailed demonstration of the Multicloud Integration Lab environment.

Discuss operational and organizational requirements associated with multicloud integration strategies.

Detailed review of specific integrations and tool-chains associated with the Multicloud Integration Lab.

Design discussion of specific use case parameters.

Identify necessary follow up activity.
Goals & Objectives
No matter where you are on your multicloud journey, a strong alignment between the business drivers and the supporting technologies must be established. This workshop aims to help you put the right people, processes and technologies in place to help your organization accelerate the adoption of multicloud applications and infrastructure to deliver your business goals. Other takeaways include:
Key factors supporting the importance of executive buy-in for multicloud initiatives.
Examples of multicloud organizational structures and operational processes.
Deeper perspective on the differences between the role of application/product teams and IT architecture and operations.
What is a workshop? A workshop is typically a paid engagement, with predefined objectives, that results in the creation of strategic project deliverables: action plan, high-level architectural design, proposal or quote for project implementation. Workshops may be delivered remotely or onsite.
Who should attend? (This list is non-exhaustive.)
Chief Information Officer; IT directors/leaders with a vested interest in Multicloud Integration/Automation.
Chief Digital Officer; Product Owners and Business leaders looking to improve and enhance innovation projects.
Chief Security Officer; Security Experts that are considering initiatives such as automated compliance, Security-as-Code tied to application/code deployments.
Benefits
By leveraging a collaborative session along with real-world examples, the Multicloud Integration Workshop will help your teams move faster towards defining the underlying use cases and workflows associated with your multicloud initiatives. The workshop deliverables may include:
A readout summarizing the workshop.
Outline of the mutually agreed upon use case definitions.
High-level recommended next steps.