Article
•
•
5 minute read
Open RAN: A Journey Worth Taking
Open RAN promises to simplify the RAN, but only for those who understand the network and best practices. Systems integration, security, and validating new and emerging vendors will be key.
A huge amount of investment is required to introduce new 5G services.
Open RAN, which enables service providers to use software and hardware from different vendors, is generating a lot of excitement within the industry. It teases a future where white box telco equipment can become a reality, and software and hardware within a network can be created with the help of multiple vendors.
The excitement is so big that ABI Research estimates Open RAN spending will top $10 billion annually by 2027 and $30 billion by 2030. Given its benefits and ability to future-proof networks, investment in Open RAN should be a clear priority for service providers moving forward.
Nonetheless, the technology is at an early stage and several issues must be solved before the benefits can be realized.
Designing Open RAN-compatible white box hardware is not straightforward. To achieve successful interoperability and the associated cost savings, collaboration and standardization, the use of validated industry solutions is essential.
Understanding Open RAN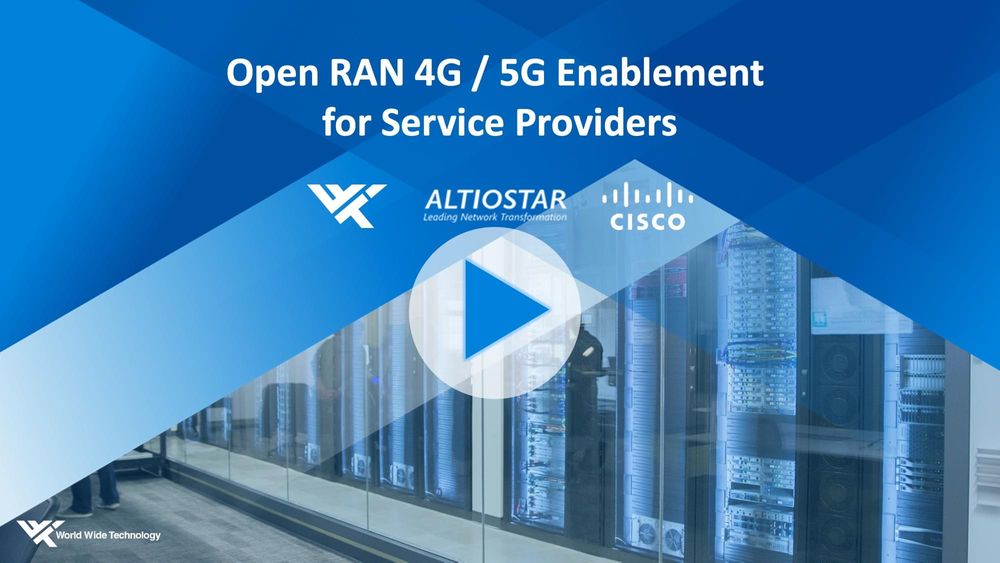 An Open RAN utilizes modular software with general-purpose hardware, which allows baseband and radio unit components from discrete suppliers to operate seamlessly together.
By disaggregating the network (uncoupling hardware from software), more companies can supply components. This also has advantages for software developers because it enables vendors, operators and third parties to deploy innovative software services as RAN applications that can leverage developing artificial intelligence and machine learning-based technologies. These innovations promise to drive efficiency, cost-saving and innovation by opening up the network to automation and using the best technology available for individual tasks.
Service providers' awareness of the benefits of Open RAN is becoming clearer. Many are already conducting tests to understand the practicalities and how to get the most out of them.
However, Open RAN represents a new challenge for service providers. In the past, operators had an in-house expert for every component in the RAN. But with Open RAN introducing countless new vendors to the ecosystem, maintaining this kind of expertise across all areas is no longer possible.
Simple, yet complex
This expertise matters, because while Open RAN may offer greater simplicity to alleviate the challenges of virtual RAN (vRAN), it ironically can become complex and problematic if not navigated with expertise and a collaborative spirit.
Designing Open RAN units is not just a case of coding software, installing it on a rack-mounted server and then shipping it out the door. Standardized and rigorously documented protocols are essential to ensuring interoperability between units from multiple manufacturers, because having both legacy 4G architecture and multiple vendors in the network infrastructure can cause unexpected problems. Without compatibility tests, issues can occur — for example, an entire class of mobile phones could become incompatible with the network.
Systems integrators offer a solution to the challenge of ensuring interoperability. Not only are they able to sample and test a wider range of vendor products through dedicated testing facilities, but they are able to do it at scale.
Multi-vendor interoperability tests at scale simulate real-world strain with multiple vendors and technologies running in parallel. These are essential because they uncover problems which might otherwise be missed. This is more important in Open RAN, because when problems occur operators may have to deal with multiple vendors instead of one to fix the issue.
Though it may seem strange, the same may apply with an integrated vendor where software, components and modules are designed by different teams — often outsourced and in different continents — then integrated and validated in-house.
Securing a modular network
This isn't said to cast doubt on the validity of Open RAN architectures' reliability. In fact, when it comes to security, proprietary RANs have some structural disadvantages compared to Open RAN.
If operators spot issues in the core network, it could be a six to 18 month process to remove it. Open RAN, by comparison, is a granular network — if something untrustworthy is detected it can be removed. However, there are still security considerations for Open RAN networks, and integrators are ideally placed to help service providers navigate them.
A key issue is there is no overall view available of the Open RAN network. With the disaggregation of hardware and software, it is harder to be certain what pieces of equipment are being introduced into the network. This has the potential to expand the attack surface. As we saw with the Meltdown and Spectre hacks, sharing hardware resources can lead to exploits.
Integrators offer solutions to this kind of problem through their ability to test multiple vendors, suggest alternate software orchestrations and support with supply chain management. Container technology allows resources to be diverted away from problematic pieces of equipment in the network. With access to testing facilities, alternate configurations can quickly be spun up using pre-validated architectures and applied as a fix.
On the supply chain side, introducing tighter controls means operators can reduce the opportunity for error or poor security practices in the equipment they are introducing to the network or a customer. Strong integration practices mean that kit is tested before delivery.
A democratized ecosystem
Perhaps paradoxically, Open RAN promises to simplify the RAN, but only for those who understand the network and best practices.
Its promise to democratize the supply of components and disaggregate software from hardware should allow operators to use the best technology for the job and prepare for future innovations like 5G and artificial intelligence (AI).
However, an ecosystem of multiple vendors creates its own issues to navigate. Operators can no longer be expected to maintain in-house expertise in every component of the network, so they should work closely with integration specialists, who are able to test many more variations before introducing them to real-world strain.
Creating a more open and meritocratic network may be challenging, but it is a journey worth taking.
Deliver an open, agile, software-driven network that enables richer services, with greater flexibility at a lower cost.