Nlyte DCIM Lab
Solution Overview
Capacity planning: Understanding who is using what, reserving space/power/cooling.
Identification: Underused assets and security threats.
Change management: Understanding connected dependencies to manage changes/ maintenance.
Outage prevention: Avoiding oversubscription of power resources.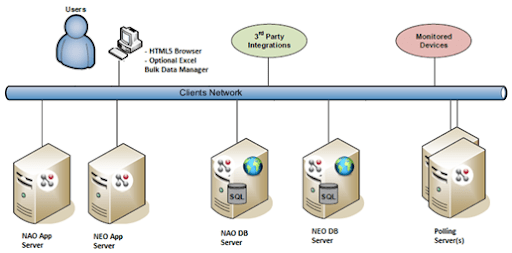 Goals & Objectives
Gain preliminary understanding of Nlyte's Data Center Infrastructure Management (DCIM) Suite with this lab environment.
Understand common workflows and problems solved, including:
Capacity Planning
Outage Prevention
Asset Lifecycle Management
In-depth Reporting
Real-time Monitoring and Alarming
Note: This lab uses example data, not real-world data.
Hardware & Software
First Virtual Server: Nlyte Asset Optimizer (NAO) & Nlyte Energy Optimizer (NEO)
Intel® Xeon® 2.5GHz processor minimum 8 cores
16GB memory
500GB of hard disk
Windows Server 2019
Second Virtual Server: Database Server
Intel® Xeon® 2.5GHz processor – minimum 16 cores
48GB memory
2TB of redundant SSD drives
Windows Server 2019
Windows SQL Server 2019
Installed Software:
Nlyte Platinum 12.0.100 which includes Nlyte Asset Optimizer and Nlyte Energy Optimizer
Windows Server 2019
Windows SQL Server 2019