Connect any user to any application without compromise
As more and more applications move to the cloud, the need to evolve existing networks to address the demands of multicloud networking is imperative. This evolution presents a new set of requirements for security, policy management, network visibility and deployment that go beyond what the traditional network and security environments demanded. Cisco SD-WAN enables you to address those requirements while delivering a secure and predictable digital experience for your hybrid workforce in secure multicloud environments. It also enables you to build dynamic, smart workspaces, and accelerate the transition to a Secure Access Service Edge (SASE)-enabled architecture.
As organizations continue to embrace hybrid work, cloud and SaaS, Cisco SD-WAN provides flexibility fundamentally built around:
Multicloud Access: The ability to connect any WAN location to multiple cloud platforms or any other enterprise site.
Security: The ability to deploy a complete security solution, on-premises or with cloud security, enabling enterprises to transition to a Secure Access Services Edge (SASE) architecture where and when it is needed in a secure agile manner.
Analytics and Insight: The ability to extend visibility beyond the traditional corporate network to quickly pinpoint the source of issues, correlate application behavior with underlying networks, translate real time data into actionable insights and manage the performance of what matters.
WWT's Advanced Technology Center (ATC) supports the latest in Cisco SD-WAN solutions. Within the ATC, you can get hands-on access to multiple environments, including our Foundation labs, Sandbox labs and SASE labs.
How to use our Cisco SD-WAN (Viptela) labs
Cisco SD-WAN (Viptela) continues to be one of the most deployed SD-WAN solutions within our customer base. Get the most out of our labs with this quick rundown of what we offer to grow your Cisco SD-WAN knowledge.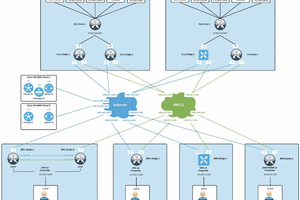 Learn more about SD-WAN and Cisco