Solution overview
NetApp Cloud Insights is a service-based analytics platform that provides visibility over your infrastructure, on-premises and in the cloud. Troubleshoot, monitor, and optimize the resources consumed within your infrastructure.
Cloud Insights allows users to create custom dashboards to monitor and trend any aspect of their infrastructure including CPU, memory, storage network utilization, IOPS, capacity utilization, and more. Cloud Insights can also provide visibility into the inter-connectivity of the components in your infrastructure by providing topology views of any component of your infrastructure.
Use Cases
Cloud Insights is a Software-as-a-Service only subscription that adds enterprise monitoring and analytics for various use cases including:
Heterogeneous visibility of storage, hypervisor, VM, container, and application metrics
Cost savings and infrastructure right-sizing
Realtime performance analytics and alerting
Historical performance and capacity trending
Cloud cost control
Cloud migrations
IT chargeback / showback
Features
Service-based analytics platform managed by NetApp
Monitoring of infrastructure across a variety of vendors and cloud service providers
Standardized data analytics across on-premises, co-located, and cloud environments
Real-time dashboards for time series metrics
Resource utilization insights to reduce costs
Kubernetes health and topology
Alerting based on performance and capacity thresholds
Custom reports
User data access auditing
AI/ML-based insider threat detection
ActiveIQ integration for predictive analytics and remediation recommendations
Realtime Dashboards
Reporting
Lab diagram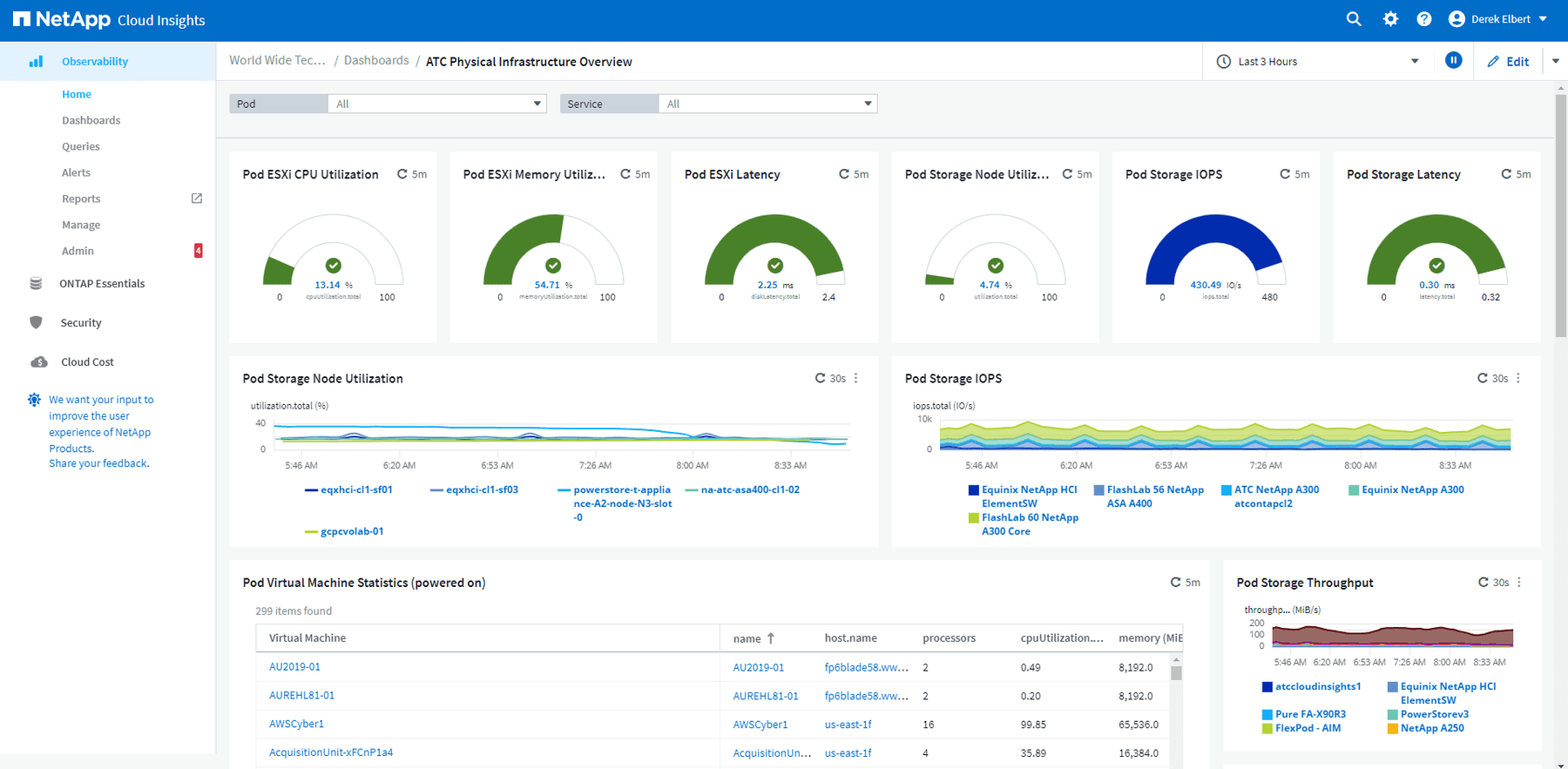 What's next?
Learn more about Cloud Data Management, stay up-to-date with the industry and the new technology we have at WWT.