About Zscaler & WWT
In today's cloud-first world, fast and secure access to cloud resources is a key driver of business agility and innovation. Using the zero trust approach, WWT and Zscaler partner to help organizations achieve modern workplace enablement, operational efficiency and secure digital transformation. The Zscaler Zero Trust Exchange platform delivers unparalleled security at scale by securely connecting users, devices, and applications over any network, in any location - protecting customers from cyberattacks and data loss worldwide.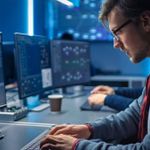 Start your journey today
Learn more about our Zscaler capabilities, speak with an expert or take advantage of what we have in our labs.