Infrastructure Automation
Scale IT operations and engineering
Infrastructure automation uses software and tools to automatically manage and provision IT resources without the need for manual intervention. Organizations that embrace infrastructure automation can scale IT engineering and operations consistently, securely and with greater accuracy.
Our automation experts help clients align investments in infrastructure automation tools to business initiatives, eliminate bottlenecks to the flow of work and build a culture where IT teams are excited to automate away non-value-added tasks.
And because we know automation is a continuous journey, we work hand in hand with clients after implementation to ensure teams can operate infrastructure automation tools self-sufficiently and with confidence.
What's new in infrastructure automation?
Infrastructure automation can drive operational efficiency across your IT organization. Explore resources that touch on the different aspects of growing your infrastructure automation capabilities.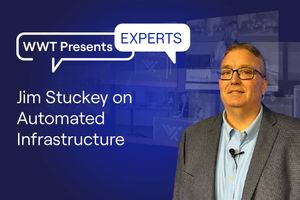 Infrastructure Automation
Simplifying IT Infrastructure to Drive Automation Efficiencies | Experts
Tasked with doing more with less, IT leaders globally are looking to scale automation projects to drive efficiency and productivity. Even more important than moving automation forward is moving the right automation forward. But as many are learning, this is easier said than done. Join WWT's Jim Stuckey, who leads our infrastructure automation practice, as he dives into why providing automated infrastructure is so critical to delivering good end-user experiences. Jim also talks about common use cases for automated infrastructure, outcomes gained from those use cases and considerations for building a culture that's ready to tackle it all. And who could forget — how is automation changing in the age of generative AI?
Benefits of infrastructure automation
Chances are your IT organization has already implemented some infrastructure automation tools. However, we find that clients often struggle to scale infrastructure automation to multiple teams and departments. We partner with our clients to develop a strategy that includes people, processes and technology, so you can realize the many benefits of infrastructure automation.

Increased efficiency and productivity
Reduce the need to manually provision, configure and scale IT infrastructure.
Deploy, update and maintain infrastructure faster and more accurately.
Give IT teams more time to focus on strategic initiatives and address critical issues.
Consistency and standardization
Consistent and standardized configurations.
Reduce errors and misconfigurations.
Simplify troubleshooting and debugging.

Scalability and flexibility
Seamlessly scale up or down infrastructure resources.
Respond to changing business requirements faster.
Deploy and test different configurations more efficiently and securely.
Infrastructure automation briefing
During our infrastructure automation briefing, our experts cover industry trends, foundations for success and how we partner with clients. They also discuss common use cases driving infrastructure automation such as network automation, compute and storage automation, cloud automation, test automation, and immutable infrastructure.
Connect with our infrastructure automation experts