Higher Education
Higher Education includes all learning institutions beyond K-12: universities, colleges, community colleges and professional organizations. This WWT community is dedicated to sharing trends and developments in higher education that impact and are impacted by technology. All WWT employees and education professionals are welcome! Connect with WWT experts to ask questions, request a briefing or share ideas.
Higher Education Thrives on Technology
WWT is committed to supporting higher education institutions in achieving the vision of lifelong learning for all beyond high school. Universities, community colleges and professional development organizations are cornerstones and lifeblood in our communities. Digital technologies are the thread that connects their leaders, students, employees, researchers, and community members. We're here to help.
Student Success & Digital Expectations
Students have sophisticated expectations about digital maturity, consistency and university-provided tools. Institutions are evolving the vision for their digital ecosystems and the "digital consumer" experiences they use to engage with students.
Faculty & Staff Make it Happen
Technology creates warm human connections between faculty and staff to operate as a connected unit for each other and their students. Tools to drive workflow, employee connection, work efficiency and organic collaboration are built through integrations between many enterprise solutions and systems.
Research Drives Innovation
Faculty, staff and student researchers have unique computing needs while also following institutional practices around data security, authentication and hardware use. Knowing how to provide researchers with autonomy, flexibility and analytics power in their work while supporting their compute needs is our specialty.
Institutional Technology & Communication
Investing in modernizing and streamlining enterprise environments is critical to scaling the institution's resources for the long haul. Institutions are designing and delivering services to meet student expectations and staff's ability to serve students in a cohesive, synergistic way.
Consider This...
Consider This… is a monthly rotating feature offering insight into technology within higher education.
Desire paths. We all know them, and we've all contributed to them in our hiking, commuting, picnicking, working and shopping. Desire paths are those paths worn in the grass or through landscaping that we all take instead of the concrete sidewalks. They're more direct, might go through more enjoyable scenery, or help us stay in shade from the hot summer sun as we make our way to where we're going. They're the natural paths that landscapers and planners would have put in place if they'd asked us and studied foot traffic first. And YES, desire paths exist in the technology world too.
Understanding the context in which your institution's users work and the front stage desire paths that are important to them can direct you to the back stage technical capabilities that make these possible and functional. See some examples of what this looks like for different users.
Journey mapping and user research techniques can help you understand the moments that matter to different types of users. What do they expect from their experience? What are the outcomes that are important? What are the tools and technologies - front stage technologies that users interact with directly and the back stage technologies that connect the data, network, security and storage - that are important to making these interactions and experiences both impactful and successful? WWT's experts can help your institution in all of these areas to ensure that your critical technology investment is valuable and meaningful.
We are working to make a difference. WWT can help your institutional IT leaders and teams to recognize and achieve their potential for success.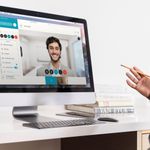 Flex Campus: Digital Transformation for Higher Education Briefing
Educational institutions are crafting a new vision for higher education experience, accelerated by significant leaps in 2020 to enable a flexible education experience across remote, hybrid and the physical campus. Institutions are looking to evolve student engagement and institutional collaboration while refining their approach to ensure equitable and accessible education, protect revenue models, revisit security posture and protect data privacy.
Colorado School of Mines Students Discuss Technology Use During a Pandemic
WWT's Janet McIllece and Amanda Kwon talk with Colorado School of Mines students about the use of current technology during a pandemic. Topics include what has worked, what needed improvement, and what ideas do the students have for new technology and creative ways to use current technology.
Go to Video
World Wide Technology Higher Education Team