Cisco SD-WAN (Viptela) Sandbox (19.2)
Solution Overview
The Cisco SD-WAN 19.2 Sandbox is a capability of the ATC designed to provide an environment to gain hands on experience with the latest features in the Cisco SD-WAN solution. The environment that supports the Cisco SD-WAN 19.2 Sandbox is completely virtual, removing any hardware dependencies associated with physical infrastructure.
On August, 2019 Cisco released the 19.2 SD-WAN code that included support for: IKE-Enabled IPsec Tunnels, Control Traffic Flow Using Class of Service Values, Share VNF Devices Across Service Chains and more!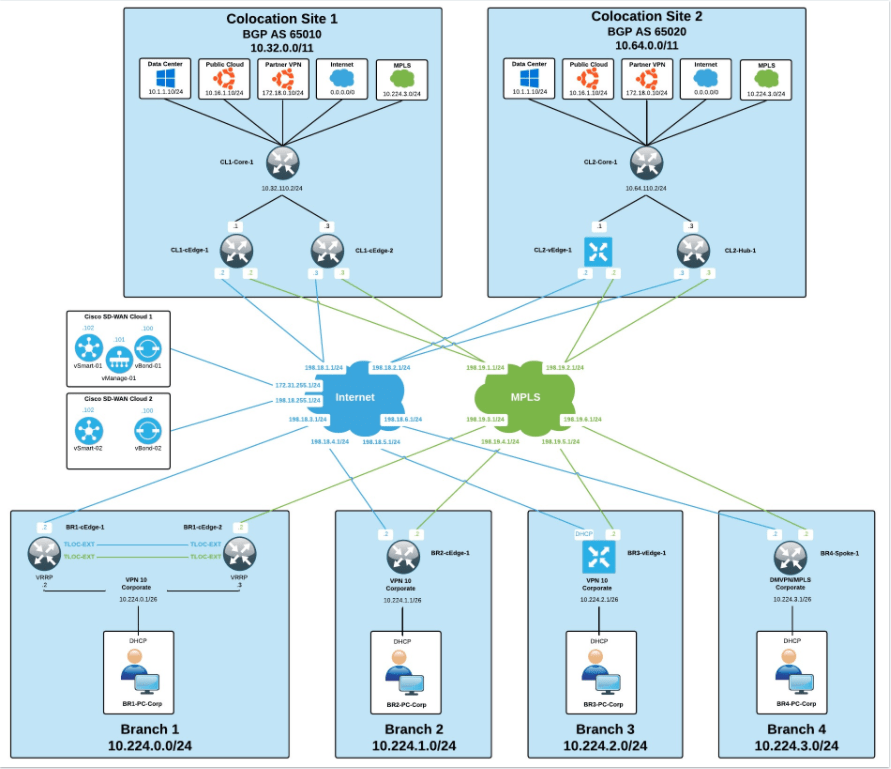 Goals & Objectives
This is a sandbox environment, giving you the opportunity to explore the latest SD-WAN innovations from Cisco. If you are interested in learning about the new features, review the release notes and configuration guides in the links below.
Explore what's new.
Test changes before you deploy.

Curious about implementing your design?
Want to know how code looks before it's in prod?

Study for the latest Cisco certification exam.
Hardware & Software
Cisco SD-WAN Software:
Controllers: Version 19.2.3 (Active), version 19.2.1 (software repository)
vEdge: Version 19.2.3 (CL2_vEdge-1) / 19.2.1 (BR3-vEdge-1)
cEdge: Version 16.12.04a (Active), 16.12.02r (software repository)
Cisco SD-WAN Devices:
1x vManage
2x vSmart
2x vBond
5x cEdge CSR1000v
2x vEdge Cloud
Infrastructure Devices
5x CSR1000v
9x Windows 10 Desktop
2x Ubuntu server
2x TrafficJam