What's popular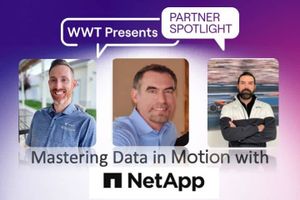 Cloud Data Management
Setting the Pace: Navigating Data in Motion Challenges in a Hybrid Cloud World | Partner Spotlight
As organizations continue to digitize their businesses, data stands as their most strategic resource to accelerating growth and transformation. Ironically, data tends to also be their Achilles heel. That's because managing data is complex, cumbersome and challenging — and that's especially true when managing data across multicloud platforms. This webinar delves into the intricacies of cloud data management, the hurdles organizations face, and the future of this domain. Highlighting NetApp's collaboration with the Tag Heuer Porsche Formula E team, we'll showcase real-world applications and solutions that address these challenges and how you can apply best practices to your organization today.
What's new
NetApp
NetApp BlueXP Disaster Recovery Technical Guide
NetApp BlueXP Disaster Recovery is a simple as-a-service approach to protect your VMware virtual machines backed by ONTAP storage on-premises with VMware Cloud (VMC) backed by ONTAP storage in the public cloud (i.e. AWS FSx for ONTAP). This technical guide will walk you through the entire protection setup process, showcase how you manage your environment inside BlueXP once set, and then highlight the ease of failover from VMware OnPrem to VMC in AWS.