Our services
We deliver the unexpected
Great digital experiences aren't created in silos. That's why our comprehensive approach breaks down the barriers between strategy and execution, physical and digital, and employee experience and customer experience to deliver game-changing results for your business.

Foster employee engagement, productivity and a culture of innovation

Increase customer satisfaction, basket sizes and lifetime customer value
Leverage data to prioritize and optimize existing investments

Create new revenue streams to increase profitability
How we do it
We combine strategy and execution
We don't just dream up digital experiences, we execute them. Our consulting expertise in employee experience and customer experience, combined with our deep bench of technical talent in cloud, infrastructure, networking, security, big data, AI/ML and more, allows us to bring innovative solutions to life for our clients.
We start by aligning stakeholders, conducting employee and customer research, developing roadmaps, and identifying solutions that add business value. Then we do the work. From custom software development to back-end integrations, our proven ability to execute at scale ensures your business realizes its EX and CX vision faster.
We connect physical and digital experiences
From enabling omnichannel to delivering seamless meetings, every experience matters. We seamlessly integrate digital approaches and physical experiences, reinforcing your brand attributes and company culture across channels.
We balance customer experience and employee experience
Employee experience and customer experience are intrinsically linked. That's why we balance both experiences to ensure the best outcome for your organization.
We draw inspiration from your employees, clinicians, frontline workers and staff. We immerse ourselves in their workflows, identify points of friction and anticipate how different customer experiences will impact operations.
Get started today
Connect with our digital experts by requesting an introductory briefing, discovery workshop or deep-dive assessment tailored to your organization's goals and requirements.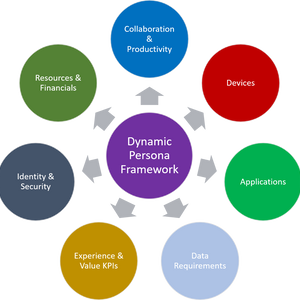 Employee Experience
Dynamic Persona Assessment
An organization's people — its end users — are at the center of every process and digital transformation. So it's crucial they have the right tools for success. Yet we often find end-user technology decisions are disjointed, left up to distinct business units or simply sprawling over time. <br/> <br/> As organizations pivot towards employee-centric services, the need to empower end users with the right technology tools and provide measurable business value is paramount. <br/> <br/> Our Dynamic Persona Assessment differentiates itself from traditional persona assessments by merging data and institutional knowledge, building a sustainable persona framework that can be used for a variety of business and technical decisions and initiatives.