What is IoT?
Ranging from household appliances to industrial tools, the the Internet of Things (IoT) is a network of physical objects embedded with sensors, software and other tech that connects devices and systems across the internet. The power of IoT and the data it can produce are seemingly limitless. Our pragmatic approach increases business and organizational agility and contains costs by leveraging technologies such as analytics, automation and visualization.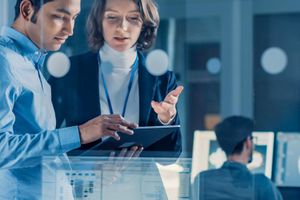 How do I get started?
We help connect the unconnected to derive insights that enable data-driven decisions. Many IoT initiatives rush to deploy technology and fail to align to the business. Defining the outcome should be the starting point. We work hand-in-hand with our customers to jointly create the outcomes the business is trying to achieve. From there, we collaborate to design, build and implement the solution.
Evaluate
The IoT market is crowded. Make sense of the market and explore beyond the hype to better understand how our methodology helps capitalize on next-generation IoT solutions, and how they solve real-world business challenges.
Design
The key to a successful IoT strategy is to take a holistic approach. Identify and classify strategic use cases, then design solutions that create business impact across your organization. We help drive an idea to outcome by having broad industry and technology expertise that spans idea generation, sensor integration, infrastructure modeling, big data analytics and application development.
Implement
The actionable insight from the integration of devices and sensors with software and analytics is driving change across all industries. Our end-to-end support of IoT strategy from sensors and device connectivity to analytics and applications helps guide an implementation plan to ensure success when solutions are deployed into production.
Operate
Leverage big data and predictive analytics across multiple data sets and APIs for app development. Create software products that deliver great user experiences to attract customers and increase the value of existing clients.
Get started today
Don't see what you're looking for or want to learn more?