Breaking Down the Latest in Cisco ACI 4.2(1) and 4.2(2) Release Notes
Learn about the newest features of of Cisco ACI 4.2(1) and 4.2(2), and hear from our ACI expert on the real benefits of these features.
December 2, 2019
•
5 minute read
Cisco ACI has been available since 2014 and is widely adopted, however the newest features and enhancements make Cisco ACI better than ever. We'll will break down the details for you, so you have all the necessary information to make the right decision and get the most out of your investment.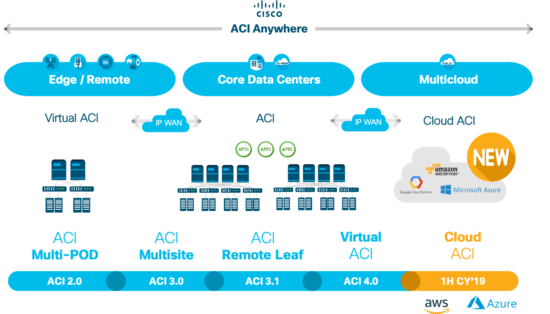 Release branch 4.2, similar to 3.2, is a long-lived release and is generally recommended unless there are specific new features requiring a future release branch.
Cisco ACI 4.2(2) notes
New hardware supported
N9K-C93616D-GX (1u fixed spine switch)
N9K-C93600CD-GX (1u leaf switch)
Note: the switches listed above are 400GB QSFP-DD on spine to leaf uplinks. Downlink leaf support speeds are 28 ports of 4x10G (via breakout w/QSA)/4x25 (via breakout) /40G/100G. This leaf switch is very useful both from a high-density design and high-capacity design.
New software features supported
Support is now available for remote leaf switch failover. In a multi-pod design, it adds support for a remote leaf to connect to anther pod if it loses connectivity to the spine switch. Some caveats: multi-pod cannot be configured in full mesh mode and must be configured in route reflector mode, and direct traffic forwarding needs to be enabled on the remote leaf.
For additional information on open and resolved bugs with ACI 4.2(2) please visit: https://www.cisco.com/c/en/us/td/docs/switches/datacenter/aci/apic/sw/4-x/release-notes/Cisco-APIC-Release-Notes-422.html
Cisco ACI 4.2(1) notes
New hardware supported
N9K-C93108TC-EX-24
N9K-C93108TC-FX-24
N9K-C93180YC-EX-24
N9K-C93180YC-FX-24
Note: the switches listed above are physically the same as their base name identifier but are software limited to use only 24 of their available 48 ports. This will give customers more cost to scale choices.
Scale enhancements upgrades
Remote leaf direct nodes are now at 64, up from the previous release of 40. This is also limited by the total number of BD deployed, not to exceed 30k. Remote leafs are useful for a migration path from a legacy data center to a modern ACI fabric.
New software features supported
Viptela SDWAN integration enhancement
This adds support for reverse DSCP values from SD-WAN edge to ACI fabric. This allows for ToS bits to be preserved on return traffic from the WAN edge to make certain the fabric treats the returning traffic according to its intended value.
AVE support
Adds support for ACI Virtual Edge 2.1(1a). Note: MSO2.2(1) is required. ACI Virtual Edge is a virtual switch within the virtual hypervisor allowing for micro-segmentation and provides near-seamless migration from Cisco AVS and VMware VDS.
Floating L3out
This feature allows for a virtual float of an L3out when communicating with a virtual router which prevents having to create multiple L3outs. This feature was designed for interfacing with VMware VDS.As the virtual router can appear on many fabric leaf switches with adjacent VMware hardware this is one way to simplify L3 connectivity.
L3out Enhancements
BGP Session Shutdown allows for the admin down of a BGP neighbor. This feature will allow a user to admin down a BGP peer during a change control window or troubleshooting it also give the ability to a fabric admin to temporarily drop communication would removing the L3out configuration.
BGP soft reset allows for dynamic soft reset of inbound and outbound BGP routing table updates that are not dependent upon stored routing table update information. Soft reset support is important when troubleshooting; using a clear soft of an adjacent neighbor will not temporarily reset the peer.
BGP route control per BGP neighbor peer within the L3out allows for more granular control of import and export route control. This allows for different import and export control for each peer. And BGP route map policies for redistribution of static routes into BGP allows for direct injection of static routes into BGP.
Other enhancements include:
Support for IPv6 multicast

IPv6 address family in BGP L3out
PIMv6 support

Cluster health command from the APIC CLI

For example, the APIC1# "acidiag cluster" command provides cluster health from the CLI. This is useful when troubleshooting from the APIC CLI.

Policy-based redetect backup policy

This allows a backup node to be configured to support traffic if the active node is no longer available; useful for service graphs through state aware hardware to prevent possible asynchronous traffic. Some caveats to be aware of include: resilient hashtag must be enabled, feature does not work on first gen leaf switches, and only layer 3 PBR destinations are supported.

CDP/LLDP support for management interfaces

These discovery protocols allow for layer 2 discover of devices which can be useful both from a troubleshooting and documentation perspective with respect to the out-of-band fabric network.

Fabric upgrade/downgrade blocked based on health

Beginning with ACI version 4.2(1), an attempt to do an upgrade or downgrade of the fabric can cause the procedure to be prohibited based on the fabric health and severity of the faults. Although this could seem intrusive, it may protect the fabric from becoming inoperative due to an upgrade or downgrade.

Storm control SNMP traps

When Storm control threshold conditions are met, the fabric will trigger SNMP traps. This is useful for identifying some loops within the environment. This feature is not supported on first gen leaf hardware.

Embedded Logic Analyzer Module (ELAM) troubleshooting output simplified

ELAM output has been simplified to display in a human-readable format. Many of the hexadecimal values have been converted to decimal values and text output has been improved. This feature is not support on first gen switches.
For additional information on open and resolved bugs with ACI 4.2(1) please visit: https://www.cisco.com/c/en/us/td/docs/switches/datacenter/aci/apic/sw/4-x/release-notes/Cisco-APIC-Release-Notes-421.html
For additional information regarding scalability of the fabric please visit: https://www.cisco.com/c/en/us/td/docs/switches/datacenter/aci/apic/sw/4-x/verified-scalability/Cisco-ACI-Verified-Scalability-Guide-421.htm
For additional information on all available switch hardware please visit: https://www.cisco.com/c/dam/en/us/td/docs/Website/datacenter/acihwsupport/index.html