Upcoming and on-demand events
Online or in person, WWT offers a variety of events to collaborate, connect and grow in the digital world.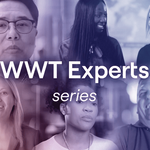 Event
webinar
WWT Experts: Joe Berger on Digital Experiences & Hybrid Work
Grab a quick dose of deep expertise with the WWT Expert series. In each episode, our host poses topical questions to a WWT Expert. Learn about the business solutions these experts have created, the technologies they've mastered and the trends they're seeing in the marketplace. All in 30 minutes or less. During this event, Matthew Coble will chat with Digital Workspace expert, Joe Berger. Joe is passionate about enabling employees and simplifying their experiences to truly unlock employee engagement and productivity. He is a great resource for any Digital Workspace questions you may have!
Sep 01, 2022 • 1 pm (CDT)