Foundations Lab
 · On-demand
NetApp Cloud Data Sense
Solution overview
Always-on Governance & Compliance Controls
Cloud Data Sense is a data governance service for Cloud Manager that scans your corporate on-premises and cloud data sources identified in BlueXP as working environments to map and classify data, and identify personal private information. This can help reduce your security and compliance risk, decrease storage costs, and assist with your data migration projects.
Cloud Compliance was renamed Cloud Data Sense in June 2021.
Features
Identify Personal Identifiable Information (PII)
Identify a wide scope of sensitive information as required by GDPR, CCPA, PCI, and HIPAA privacy regulations
Respond to Data Subject Access Requests (DSAR)
Notify Cloud Manager users through email when files contain certain PII
View and modify Azure Information Protection (AIP) labels in your files
Add a custom status to files (for example, "needs to be moved") and assign a Cloud Manager user so that person can own the change to the files
Move and delete files
Identify the stale data, non-business data, duplicate files, and very large files in your systems.
View the size of data and whether any of the data contains sensitive information prior to moving it.
Supported working environments and data sources
Cloud Volumes ONTAP in AWS
Cloud Volumes ONTAP in Azure
Cloud Volumes ONTAP in Google Cloud
On-premises ONTAP clusters
Azure NetApp Files
Amazon S3
Non-NetApp file shares
Object storage (that uses S3 protocol)
Databases
OneDrive accounts
For more info access the FAQ
Lab diagram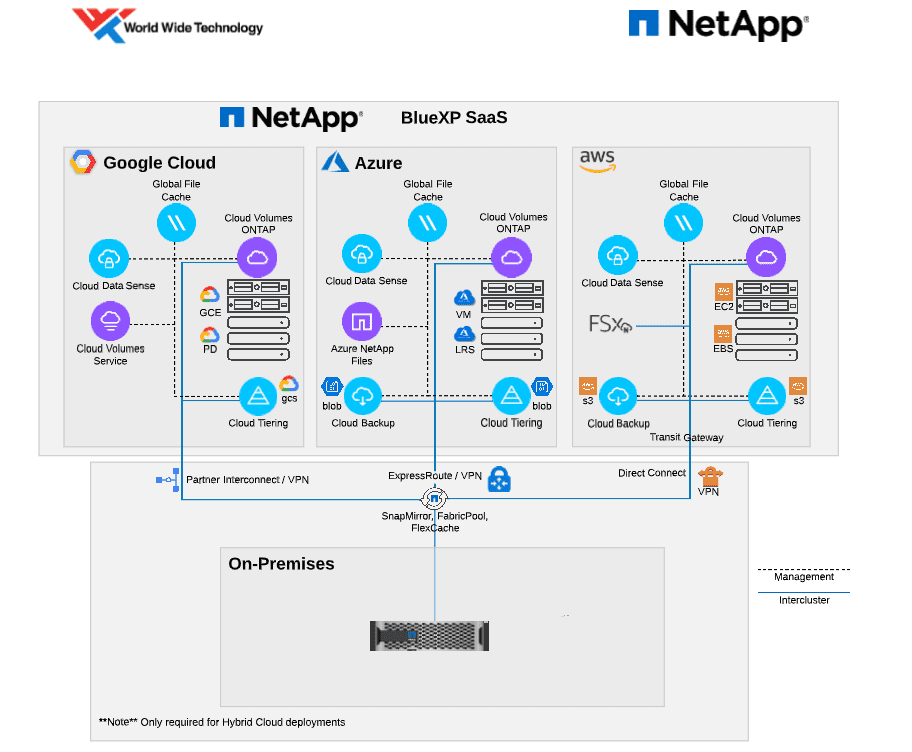 What's next?
Learn more about Cloud Data Management, stay up-to-date with the industry and the new technology we have at WWT.