Employees want the ability to start working quickly and seamlessly on their devices. To deliver this type of experience, IT teams must be able to easily manage these devices while maintaining security.
Dell Technologies & WWT: Empower digital workers

Dell Technologies Unified Workspace provides IT teams visibility across their entire endpoint environment, allowing them to efficiently deploy, secure, manage and support devices from the cloud. Intelligence and automation integrations reduce time spent on tasks and allow IT to deliver experiences that employees expect.
Dell Technologies Solutions
Our partnership allows us to showcase award-winning technology that lets employees get to work faster.
Pre-Provisioned Devices
From day one, empower employees with devices that are pre-provisioned with VMware Workspace ONE. This can save IT time by up to a week per 1,000 devices deployed.
Built-In Security
Dell devices are equipped with built-in security features so you can rest assured you're starting with a solid foundation.
Unified Endpoint Management
Dell and VMware Workspace ONE pave the way for modern management. Workspace ONE provides 24/7 managed IT service desk, device management and account management.
Expert IT Support
ProSupport Plus with SupportAssist reduces IT time spent on support calls for hardware and software issues with device, application and user intelligence.
Award-Winning Devices
Dell Technologies laptops, displays, monitors and more are designed with ideal end-user experiences in mind.
Labs
VMware Workspace ONE - Horizon Integration
This lab, Workspace ONE Horizon Integration, provides an overview of the Workspace ONE portal and the integration of Horizon virtual desktops (vDesktops) and published applications.
VMware Workspace ONE - Adaptive Management
This lab, Workspace ONE Adaptive Management, provides an overview of the adaptive management capabilities of Workspace ONE, which allows the ability to dynamically enhance the degree of endpoint device management based on the applications used by a given user.
Workshops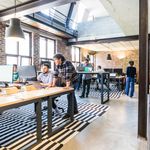 VMware Workspace ONE Workshop
Workspace ONE delivers the foundation of the modern Digital Workspace, simply and securely delivering and managing any app, on any device, from anywhere. Access control, application management, and unified device management are integrated together to provide a holistic platform for empowering user productivity while maintaining enterprise security regardless of application, location, or device type.
Day in the Life of an Empowered Employee
This video highlights examples of how to empower employees with a great digital workspace. For more information about what makes an empowered employee, don't miss our article featuring insight from Josh Olson, VMware's director of employee experience solutions.