In today's rapidly evolving digital economy, organizations must modernize and automate their IT infrastructure to leverage vast amounts of valuable data and draw relevant insights. These data-driven insights allow organizations to take meaningful action toward achieving business outcomes related to innovation, customer experience, security and reliability.
Dell Technologies & WWT: Optimize Your IT Infrastructure

Improved customer satisfaction and revenue
In a 2018 IDC white paper sponsored by Dell Technologies and Intel, organizations were identified as "Thrivers" or "Survivors" based on their success in using data to differentiate themselves and develop a competitive advantage. Thrivers have a deep understanding of their operational data and use this knowledge to improve customer satisfaction. These organizations experienced up to a 75 percent increase in customer satisfaction, a 70 percent increase in new customer acquisition and a six percent increase in per customer revenue.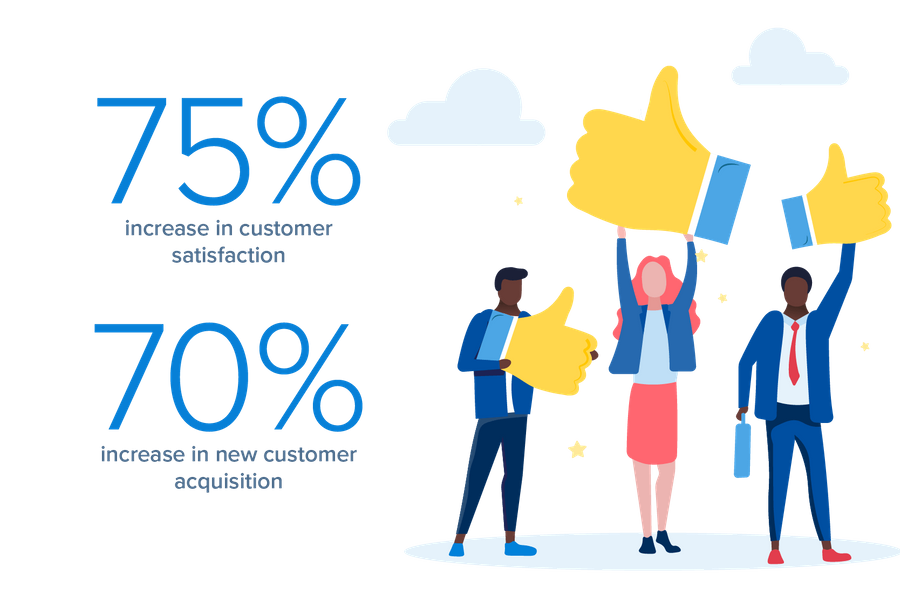 Data protection benefits
For many organizations, a key motivator for modernizing infrastructure is gaining tighter security controls for improved data protection. Modern IT environments encounter 39 percent less security breaches and a 71 percent faster data recovery window.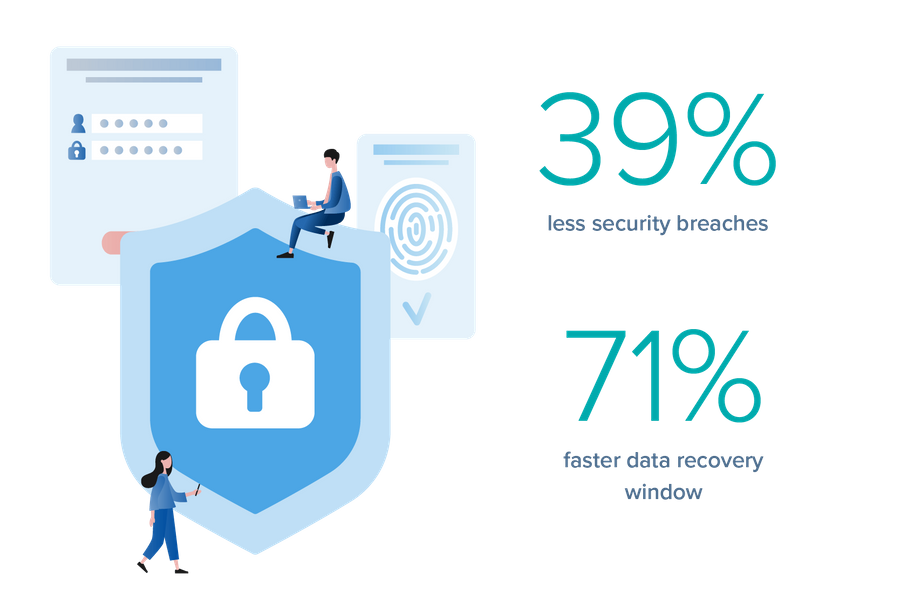 Increased productivity and reduced costs
A modernized infrastructure allows IT staff to spend less time on day-to-day activities and more time delivering business value. IDC calculates that IT teams with modernized infrastructure are 35 percent more productive. Additionally, these teams spend 73 percent less time on unplanned downtime and 23 percent less on IT infrastructure costs.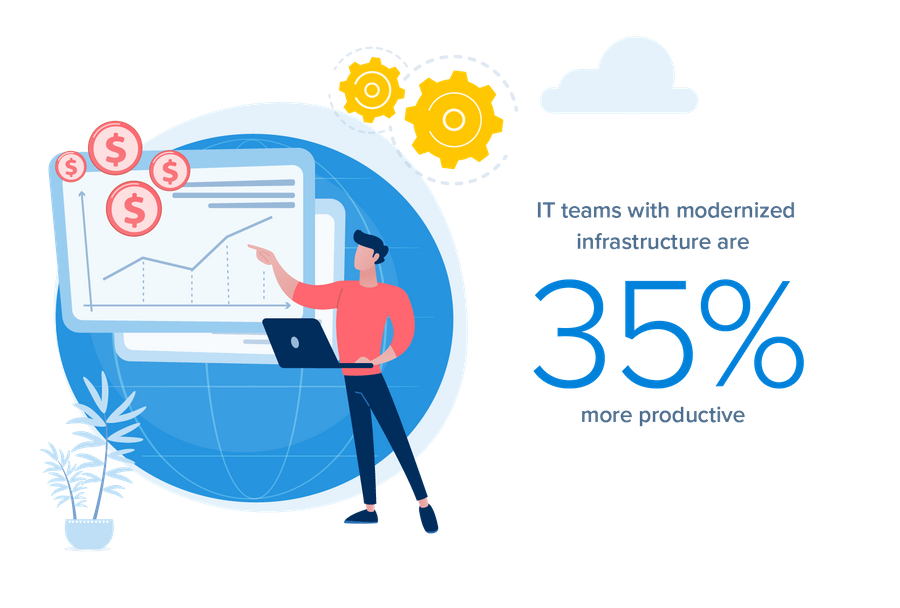 Dell Technologies Solutions and Products
Our strategic partnership with Dell Technologies allows us to provide hands-on access to their leading IT modernization solutions.
Multicloud
Simplify the complexities of multicloud architecture and reduce risk by implementing a consistent management approach and strategy across private and public clouds.
Solutions include: Dell Technologies Cloud and Dell EMC Cloud for Azure Stack
High-Value Workloads
Modernize your IT environments to leverage the power of your data and innovate faster. Easily manage critical workloads from core to edge to cloud while benefiting from real-time intelligence and responsive application development.
Solutions include: Microsoft SQL, Oracle, SAP and High-Performance Computing
Hyperconverged Infrastructure (HCI)
Leverage Dell Tech's HCI solutions to easily scale, operate and accomplish complex workloads.
Solutions include: VxRail and VxFlex
Converged Infrastructure (CI)
Simplify operations by combining compute, storage, networking and data protection in fully engineered systems and validated designs.
Solutions include: PowerOne and VxBlock
Servers
Achieve business success with servers designed for web, enterprise and hyperscale applications at scale. Intelligent automation and integrated security drive increased productivity and protect your organization and customers.
Solutions include: PowerEdge VRTX, PowerEdge MX and PowerEdge
Storage
Get the most out of your data by seamlessly scaling and moving critical workloads from core to edge to cloud.
Solutions include: PowerMax, PowerStore, Isilon, XtremeIO and UnityXT
Data Protection
Effectively manage, protect, archive and recover your data on-premises and in the cloud with consistent visibility even as your business grows.
Solutions include: Data Protection Suite, PowerProtect DD Series and X Series Appliances, Integrated Data Protection Appliances (IDPA) and PowerProtect Data Manager
Why WWT for Dell Technologies solutions
Our complete services portfolio can help accelerate your journey to IT modernization.
Start your journey today
Don't see what you're looking for or want to learn more? Reach out to us to get started.